Container Sales

We can supply both new and used shipping containers (20', 30', and 40') and refrigerated containers throughout Humberside and Lincolnshire. These can be used for many projects as listed below; and if we can't do it, we know someone who can! Please contact us now for sales enquiries!
general storage.
books or documents.
furniture.
containers for cars.
equestrian tack rooms.
foodstuffs or refrigeration units.
generators.
recording studios.
secure data centres.
military use.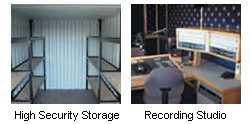 Below are some more useful details that you may wish to know before purchasing a container from us.
Selecting Your Container
New containers are normally manufactured from high tensile rust inhibiting corten steel, which increases life span. Having a CSC plate (MoT) they can be used for shipping containers. They come in a wide variety of sizes and types 40', 20', 10' and 8' x 8'6" standard height, or 9'6", single or double ended doors. Hansard Haulage always have many of these units in stock, and if the one you want isn't available straight away we can source them quickly through our contacts nationwide.
Second-hand or Used Containers
The previous use of the container will determine the condition. They should be offered in W/W (wind and watertight) condition, and be structurally sound. Always ask the age and condition of the container. If viewing before purchase, pay particular attention to the roof and doors, which are known weak areas.
The majority are of standard 8'6" height and much sought after. The 40's, can also be 9'6" high. A conventional shipping container does not have a lock box or cowl fitted. Ask your supplier about fitting one, which will considerably improve security. Do not attempt to use a container sold as a Storage Unit for Shipping Purposes as this can be a very expensive mistake.
Always discuss the specific use for your container(s), as practical advice may identify points not considered.
Condensation
When storing soft furnishings, paper etc, condensation may occur, please specify with us upon enquiring, or click the following links to find out more about
condensation prevention
and
dehumidifiers
.
Refrigeration
There are a wide variety of refrigerated containers available.


Deliveries
Hansard Haulage can arrange delivery with or without a crane assisted vehicle, but please always discuss access with us. Crane assisted vehicles are our speciality and we have many types avaliable for different situations.

Special Builds
Containers can be damp roof; waterproof; fireproof; vandal proof; highly secure; or marinised and (usually) painted in a colour of your choice. In addition, we can containerise generators and fully fit secure data centres.
Containers can be: Insulated (ideal for furniture or paper storage), open tops, double-ended door, or 30's, 10's, 8's single doors, flat racks, platforms, part or full side access.
Hansard Haulage can offer Customised Containers, for example, personnel doors; shuttered windows for site offices; chemical stores; canteens; data storage; changing rooms; and so much more. In addition, extras such as staircases; electrics, water and plumbing etc.
Hansard Haulage also act as an agent for All Consolidated Container Sales Ltd, please find more information on there website www.containersforsale.co.uk using the link below:
Shipping Containers for Sale
We offer new and used shipping containers to private and commercial users for self-storage and export shipping. Our ISO ships containers have a wide variety of uses, such as: living space,site offices, secure data centres, generators, storage containers for cars, books or documents, furniture, equestrian tack rooms, tools, temperature controlled foodstuffs or refrigeration units and much more.